Discover more from Propwash
Thoughts and news from the maturing drone industry
Propwash #9 - Rain making drones and Amazon's woes

Welcome back to this week's issue of Propwash! Today I cover -
Rain making drones

Amazon's Prime Air not doing well

Other delivery drone companies doing well
🌧 Making it rain
Humanity has tamed rain (to some extent). The process of artificially inducing rain or cloud seeding has been around for almost 100 years. It works by adding substances such as dry ice, iodide salts or other salts to clouds that accelerate the creation of water droplets. Traditionally this is done using small aircraft flying into the clouds releasing the chemicals to kick-start the process.
Planes aren't the only option though, people have experimented with rockets, and ground generators to get the salts up in the air to reach the clouds. The process isn't cheap either, with costs going up to several million dollars for large scale, city-wide operations.
Drones have emerged as cost-effective alternatives to manned aircraft in several applications. What about cloud seeding? To do cloud seeding, you have to carry large amounts of material to high altitudes and disperse them among the clouds. To do it at the scale of airplanes, you need to carry a lot of salt and that's difficult for drones with their limited payload capacity and size.
Also, using substances like silver iodide, the most popular choice for cloud seeding raises concerns from environmentalists. The health hazards from these substances are actively studied and still in debate. Researchers have been searching for alternatives to salt based cloud seeding and have come up with several solutions from using laser beams and less hazardous salts.
One such promising research from the UK uses electrical discharge to make water droplets in the clouds clump together and form larger ones that eventually fall down as rain. This also means that you don't have to carry tonnes of salts to seed the clouds. You just need a device to create the electrical discharges and a battery to power it.
And that's exactly what the UAE is doing with their recent experiment using drones to create rain. To combat drought and a very hot summer, the UAE started a $15M project to create artificial rainfall in the country back in 2015. The project has been quite effective, with parts of the country receiving above average rainfall and cooling places that used to reach temperatures as high as 48 degrees Celsius.
The novel technique from the UK researchers coupled with drones pose a unique opportunity -
No consumable material costs

Low operational cost v/s manned aviation

Easy to scale with multiple drones

Localized targeting of rain over a given area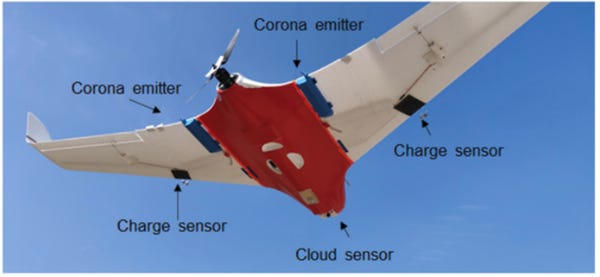 The drone used for cloud seeding in UAE. Credit - AMS journal
The UAE ran a rain-enhancement program with the goal of promoting and driving innovation in cloud seeding techniques. The UK researchers from the University of Bath participated in this program and this technique emerged as a result of their participation in the program. The research was published in the American Meteorological Society and makes for an interesting read.
The aircraft used the familiar and popular Skywalker X8 drone frame that's been in use in the hobby/professional space for the last five years. The flight pattern was at an altitude of 100 meters which is within the permissible limits in most countries. The researchers have tested the aircraft at altitudes as high as 2000 m.
Given the recent concerns with global warming, having a cost-effective and easily deployable solution for cloud seeding will be attractive to many ares that are prone to high heat, drought and potential wildfires. It's always refreshing to see drones and other tech coming together to solve large problems in an innovative way, and this is a prime example of that.
Speaking of prime examples, Amazon Prime Air was a prime candidate to be the world leader in drone deliveries and I had reported quite recently that the program is in trouble. This week, we have some more disappointing news…
🔧 Prime Air still in trouble
Wired UK reports that Amazon UK laid off 100 employees from its Prime Air division. Amazon ran it's first "trial" of drone delivery in Cambridge, UK and had an office built there to continue development. The UK team was primarily focused on manually going through test footage and identifying threats and objects for machine learning.
The report highlights issues with new management from across the continent, and the subsequent culture shock experienced by the employees while also revealing some new and alarming details that weren't reported before -
Prime Air's delivery process was different to other companies. While others delivered packages from several feet up in the air using parachutes and winch systems, Amazon was trying to deliver packages just above the ground in front of the customer's yard.

At one point in the development, the drone ballooned up to 27 kg in weight which is well above the 25 kg threshold for a small drone that could lead it to being subject to further regulatory restrictions.

The management was often conflicting in their objectives and tasks, leading employees "being told to avoid identifying people standing behind windows in drone footage, and then told to do the opposite"

Terrible working conditions leading to an employee pinning down the 'approve' button on their computer so that all the frames of footage were being approved irrelevant of whether there were hazards in them or not.

Another source says their only contact with the central office was an American executive, who would visit every few months, buy the team pizza and then ask them to double their workload, without any explanation or answering any questions.
While Amazon Prime Air is going through a tumultuous period, others in the field are making headway and are actively in the news cycle. Just this week, we had-
🛒 Delivery drones in full swing
The drone delivery space was highly active this week, with several announcements and releases -
Wingcopter, the German delivery drone company partnered with Air Methods, a US air medical delivery service to trial medicine delivery in Kansas. The program called Spright, is the most recent partnership that Wingcopter has undertaken in international markets after a $22M funding in the beginning of the year.
The Australian drone delivery startup, Swoop Aero unveiled their new drone, Kite. The platform has a unique payload bay that can be accessed from both above and below. The company is aiming to get the FAA certification for delivery drones and enter the US market. The aircraft has an impressive range of 150 km or more varying with the payload weight.
An aside - Did you know that the word payload came from trucks - referring to the "load" or cargo that would generate the "pay" or revenue. It was adopted by aviation, and subsequently drones where it's a very important and sensitive specification
China's JD Drones continues to drone deliveries for disaster aid, and one employee made the news this week for driving ten hours to the flood stricken Henan province to conduct operations at night to deliver food to stranded factory workers.
The US drone logistics company, Volansi demonstrates an autonomous ship-ship drone delivery between the US Navy and the US coast guard. Volansi had a recent leadership change with the previous CEO moving to a CTO role, and Former Air Force veteran Will Roper coming in as the CEO.
Japan Post commits 3 Billion yen for mail delivery by drones. The program is still nascent, with the organization aiming to use drones to deliver mail to remote areas.
🚁 Other news this week
Hardware
Research
This insect inspired research on a self-righting drone that can always correct itself is fun to watch and read about, however it may not find enough practical without further development.
Investments
The British drone insurance company, Flock raises $17 M in series-A funding led by Social Capital, a VC fund started Chamath Palihapitiya, an ex-Facebook executive turned investor. Flock has expanded their insurance services from drones to other autonomous vehicles including cars.
❄ Drone footage of the week
Watch this very well choreographed single-take FPV footage of a freestyle swimming relay by Will Strathmann with a surprise in the end.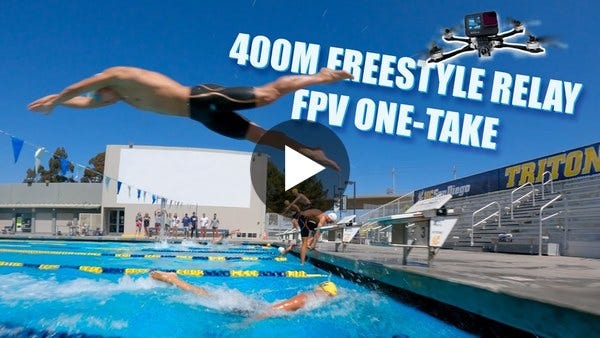 400m Freestyle Swimming Relay - EPIC FPV One Take
💡Not Drones
Every week I also share something that's not about drones but makes for a good read. This week's curated pick is a beautiful interactive explanation of how gears work from first principles.
Interactive article explaining how mechanical gears work.
🏁 Wrapping up
Congratulations on making it all the way down here. Hope you enjoyed this issue of Propwash. Subscribe if you haven't already.
What did you like about this issue? Is there something you want me to cover in the future? Or if you have anything to discuss, reply to this mail. I answer every mail I receive.
Keep flying,
Nihal
About | Ethics Policy and Disclosures | Support Propwash
By Nihal Mohan
Every week, I share the most important ideas, news and insights from all over the drone space and tell you what matters.
Join a rapidly growing list of engineers, managers, CxOs and drone enthusiasts staying ahead of the curve, cutting through the noise, and following the rise of the drone age by signing up.
In order to unsubscribe, click here.
If you were forwarded this newsletter and you like it, you can subscribe here.
Powered by Revue