Discover more from Propwash
Thoughts and news from the maturing drone industry
Propwash #5 - What is a 4G drone anyway?

The line between a consumer drone and a professional one often gets blurry. Take the DJI Phantom 4 - a consumer drone that professional surveyors and others love using. Is it fair to call it an enterprise product? Or is it a consumer drone that did more than it was asked for?
Parrot's new drone has a similar identity crisis. Read on to find out.
📻 A 4G drone is here
Last week, Parrot revealed the Anafi Ai - a 4G enabled drone with a striking appearance. Looks aside, what is Parrot trying to do with the Anafi Ai?
The first thing Parrot wants you to know is that this is a 4G drone. It's an IoT device. Parrot claims that the 4G capability means you can fly BVLOS(Beyond Visual Line Of Sight) in dense urban environments that would otherwise interfere with traditional communication systems. It also means that the range of the drone is essentially unlimited.
Of course, the unlimited range means nothing. No-one wants to fly a drone for inspection from a thousand miles away for serious work. They'd do it as a publicity stunt, and not much more. The capability has not convinced enough people in the industry either.
You can also switch from standard remote control to 4G using the Skycontroller 4. Parrot's drones do not have the best radio communication systems. They trail behind DJI's Ocusync and Lightbridge technology. So we can see why Parrot decided that having a 4G comms system would add redundancy and benefit the drone.
But why build a 4G redundant system instead of just improving the existing radios? It's a difference in philosophy. Romeo Durscher, VP of Public Safety at Auterion says that Internet connected drones are the future and SD cards have no place in enterprise drones. Internet connected drones unlock some capabilities that weren't possible before.

Using 4G to upload and process directly in Pix4D cloud. Credits - Parrot
Parrot also owns Pix4D - a popular photogrammetry software. This is leveraged by Parrot to enable the drone to upload data directly to Pix4D Cloud, automating an otherwise manual process. This sounds great on paper until you do the math. An average flight can generate up to 2GB of data. With typical 4G speeds you'll need ~28 minutes to upload it (assuming your 4G connection is stable).
But the drone has an advertised flight time of 32 minutes! Even in a city with one of the best 4G penetration, I still often face issues with connection loss and low speeds. The Anafi Ai is not immune to such issues. Even under the best scenario, the practicality of waiting for the drone to finish a slow upload is unappealing.
I agree with Romeo - connected drones are the future. I see a future where autonomy is ubiquitous with every drone connected to a network. SD cards are a cumbersome means of data transfer and should be eliminated (except in some cases). But the Anafi Ai is ahead of it's time here. It's 2021, and the Anafi Ai would be peak-2021 if it were a 5G drone. But even 5G's upload speeds wouldn't help it reach it's potential. So, is the product dead on arrival?
Perhaps not. Apart from the nature inspired design, Parrot wants to highlight a couple of features that enterprises might find relevant. It has an SDK for app developers, and plugs into the popular open-source Mavlink ecosystem, has cybersecurity certifications, and has a 48MP camera that Parrot insists is optimized for photogrammetry.
About that camera - Parrot really wants to show you that it's better than the Phantom 4 Pro despite the smaller sensor size. You see, having a larger sensor size is strongly correlated with good image quality and ground resolution. Most popular DJI drones have a 1-inch sensor while the top-of-the line P1 camera has a full-frame sensor that's 8 times larger. The Anafi Ai has a ½ inch sensor that's less than half that of the Phantom 4 Pro.
But fret not, the Anafi Ai has a trick up it's folding arms - it makes up for the smaller sensor by having a larger 48MP image. That's about 2.4x more pixels than the Phantom 4 Pro. This leads to the parrot being able to capture the same amount of detail as the Phantom while flying much higher.
To summarize:
4G connectivity might not see enough real world use cases.

Direct upload to Pix4D cloud is too slow for the Anafi Ai's flight times

Bio inspired design doesn't matter to enterprises if it's not useful

The camera might be the main redeeming feature of the drone
There is one thing we still don't know about the drone which can make or break the product's success - it's price. If it's priced around $2000, it'll compete with the Phantom 4 Pro V2 and the Mavic 2 pro, being a competitive product. But that's unlikely because it's an enterprise drone. And that means it's most likely to be priced similar to Parrot's previous enterprise drone - the Anafi USA edition at $7000.
At this price point, it faces competition from the Mavic 2 Enterprise Advanced, and the Skydio X2. Tough competition, but one Parrot is perhaps more equipped than others to handle. Only if it's priced competitively, will the Anafi Ai have a fighting chance. The drone is expected to reach customers "in the second half of 2021", so we'll have to wait and see how it fares in the real world.
Speaking of pricing, having a product at the right price point matters a lot. In the second story for the week, we see how the DJI Mini SE does just that 👇
💸 Unwrapping the DJI Mini SE
People who want a DSLR camera on a budget have options in the $300-$500 range. Consumer drones are essentially flying cameras that offer a different perspective. The DJI Mini series are adoption drivers in the consumer segment. They're the drone I recommend to anyone getting into drones for the first time.
They're compact, fun, easy enough to fly, they have relaxed rules around the world making the Mavic Mini and the Mini 2 the perfect beginner drone. The Mavic Mini starts at $400 and the Mini 2 at $450. Bundles with additional batteries and spares will cost you an additional $150.
The consumer segment is the main source of revenue for DJI. As consumer adoption increases, the brand value of DJI increases along with it. This is a positive feedback loop of trust for consumers who become prosumers and professionals resulting them to stick with DJI. It's also the reason why DJI has 1.2M followers on Twitter while Parrot has 79K.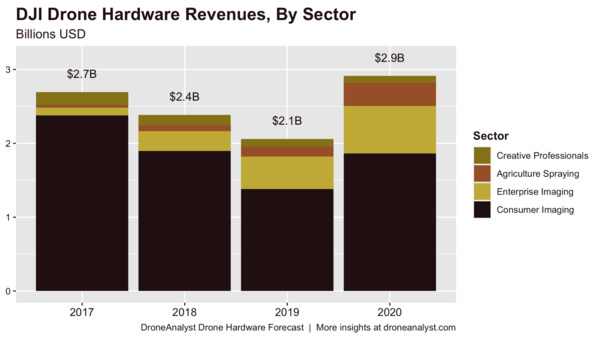 DJI revenue by segment. Credits - DroneAnalyst
Pushing for wider consumer adoption is also helpful for the industry at large. Increased drone adoption and use by the public creates a positive spiral, potentially leading to more industry friendly legislation. Which is why I was excited when I first started hearing rumors about the Mini SE.
The Mini SE is a slightly modified version of the DJI Mini, rumored to launch at a price of $300. This is a very competitive price for the product and great news for anyone who wants to get into drones. Pushing the price frontier lower increases the market size.
But DJI made a statement that it would launch only in emerging markets. This doesn't make sense. Emerging markets have much lesser purchasing power. A $300 drone will "cost" a lot more to someone from Brazil or Indonesia. And that does not help in adoption.
Why would DJI not release it to the US/EU market? Perhaps they anticipate supply and demand issues. There is a global chip shortage, and a persisting worldwide supply chain disruption.
I think DJI should release this to developed markets too. And there seems to be hints that it might happen with the recent FCC listing spotted by DroneDJ.
What do you think of the Mini Series? I'd love to hear from you. Reply to this email with your thoughts.
🚁 Other buzz
Check out this comprehensive report on the drone industry in Switzerland. It's worth a read.

The United States Air Force is recruiting FPV pilots from the Drone Racing League.

Drone light shows are getting more complex and intricate. I long for the day we can refer to them like we refer to computer screens - HD, 720p etc. Until then, here's the latest record-breaking drone light show with 5200 drones.
Investments
🎨 Not Drones
Every week I also share something unrelated to drones that makes for an interesting read. This week I want you to ponder on computer generated art.
Alien Dreams: An Emerging Art Scene - [email protected] Blog
In January 2021, OpenAI released the weights and code for their CLIP model, and since then various hackers, artists, researchers, and deep learning enthusiasts have figured out novel methods to create beautiful visual art from just a text prompt.
🏁 Wrapping up
That's it for this week! Did you find this issue worth your time? If you did, why not share it with your friends and colleagues.
If you liked this issue, and want to discuss, reply to this mail. I answer every mail I receive. If you want to support Propwash, you can do that here.
Keep flying,
Nihal
By Nihal Mohan
Every week, I share the most important ideas, news and insights from all over the drone space and tell you what matters.
Join a rapidly growing list of engineers, managers, CxOs and drone enthusiasts staying ahead of the curve, cutting through the noise, and following the rise of the drone age by signing up.
In order to unsubscribe, click here.
If you were forwarded this newsletter and you like it, you can subscribe here.
Powered by Revue