Discover more from Propwash
Thoughts and news from the maturing drone industry
Propwash #16 - Lets read some reports

Welcome to the latest issue of Propwash! Here are some of the most important insights from three reports that were released recently. Some of the findings from these reports were surprising to me and I explain how I make sense of them. Read on!
🕵 Looking at trends
There were a couple of new industry reports that were released recently that are completely worth going through to know where the industry stands and where it is headed. As with my previously mentioned methodology of reading industry reports, we shall focus more on the trends and less on the actual numbers. And of course, we try to take everything in context especially if they're surprising.
DroneAnalyst 2021
DroneAnalyst published their annual report for 2021. The full report can be purchased on their site, but there's a good summary available online. Here are some of the biggest insights and takeaways from the report-
DJI's commercial sector in a decline?
The headline from this report was the surprising drop in the commercial market share by DJI. DroneAnalyst reports that DJI's dominance in the market takes a hit with a 15% drop from the year before to just 54% this year. While DJI is still miles ahead of its competitors, it's dominance in the commercial drone market is in a decline. This was a surprise to many, and was extensively covered by all the major drone news outlets - DroneDJ, DroneXL, Drone Girl, etc.
DroneAnalyst also reports that the consumer market still remains a DJI stronghold with a market share of 94%.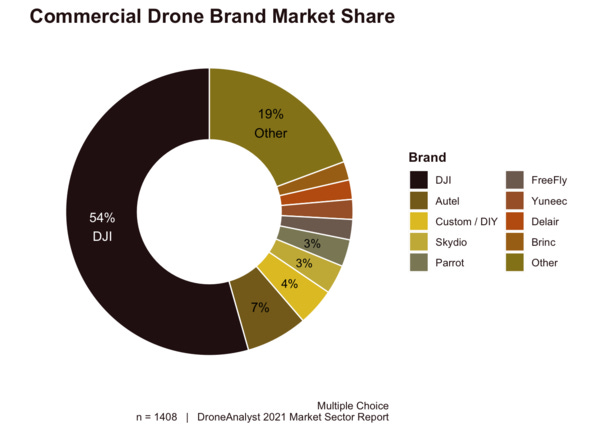 Commercial drone market share. Credit: DroneAnalyst
The decline might seem surprising, but it is worth noting that the figures represent all new purchases made this year. i.e.- only 54% of all new drones purchased this year were DJI drones. This does not cover the existing fleet numbers. The reasons for the decline are not straightforward. Some attribute it to the recent crackdown of DJI drones by the US government.
The numbers need to be taken with a pinch of salt. From the data gathered by DroneResponders consisting of local government agencies and related organizations, the public safety sector is still dominated by DJI drones at 90%.
Blurred lines, and points to note in the software market -
Pix4D and DroneDeploy make up for 27% of all drone software sales.

Cross feature adoption is an increasingly visible trend. DroneDeploy started off as an Operations management software, and Pix4D as an Analytics/Processing platform, but over the last three years we've seen each enter the other's territory. As the software industry matures, we're seeing many platforms offer a wide variety of features and applications in a breadth-first approach.

On the other hand, AirData is an outlier that is a shining example of niche growth. By serving only the drone logs and health-monitoring market, it has carved out a niche and shows up strong in the standings.

AirMap and Aloft are the most popular software with no public monetization method. As UTM companies struggle to monetize their value proposition in a meaningful way, we're yet to see consolidation in that space. After facing heavy backlash on their proposal to monetize airspace, the companies are trying to get government agencies and regulators as their customers.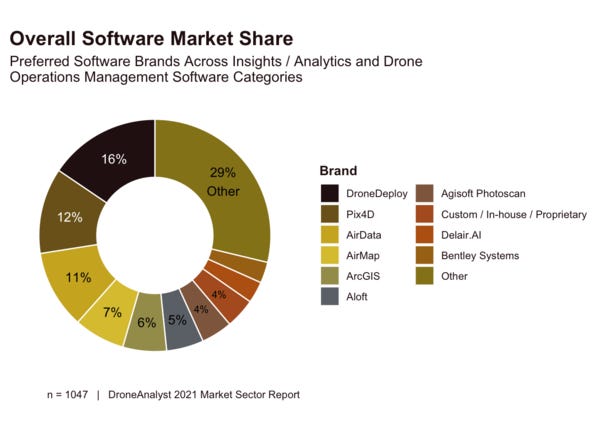 Software Market share. Credit - DroneAnalyst
Other insights and trends.
Flight execution is the most automated part of the workflow while data analytics is the least. This shows that there is still scope for better software platforms that can automate and solve processes at the tail end of the drone data pipeline.

Finding pilots is becoming a problem. There's an upward trend of service providers who are finding it difficult to find pilots. The pilot supply needs to grow to enable overall growth of the service sector. Service providers with in-house pilots and crew should focus on retention, and service providers outsourcing work to freelance pilots should expand their network. Freelance pilot aggregators will have to work on adding more pilots to the supply pool.

Drone Programs - Businesses that have created internal programs to use drone technology face similar issues. Sourcing qualified pilots becomes an increasingly important issue along with training pilots.

Regulations still the biggest headache. Regulatory knowledge, and limitations remain the biggest issue on the minds of service providers and drone programs. While it has become easier to get waivers, it's still a top concern.

It's not just drones. More people are considering adopting more unmanned systems and other robots to their program. Boston Dynamics' Spot was one of the most popular choices. DroneDeploy supports workflows that use ground and aerial data sources.

Direct Sales become more common as companies rely less on distributors. This follows DJI's move to sell enterprise drones directly on their website thereby bypassing distributors. 
Drone Service Provider Rankings
Every year, Drone Industry Insights releases a ranking of the top drone service providers. This year, the top three remote sensing service providers are Aerodyne group, Terra Drone, and Cyberhawk. I wouldn't pay attention to the exact order of the ranking, as ranking things which don't share a common metric is slightly subjective. However, there's some merit to identifying the key players in the field.
Here's a quick graphic I made on how the rankings changed from the previous year.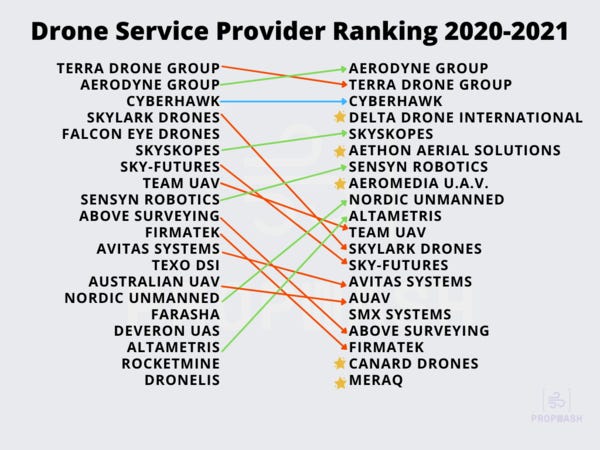 Drone service provider rankings 2020-2021. Star indicates new entry
The amount of new entrants in the rankings is surprising, and is perhaps an indicator that DroneII's methodology still needs some tweaking. It's not often you see a new entrant in the space that would be ranked highly or such high volatility in rankings in a single year.
While the top three are published on the blog post, the top twenty can be extracted from the incompletely sanitized sample report if you know where to look. Subscribe if you want more stuff like this.
The drone delivery service provider rankings remain the same, with Zipline, Wing and Matternet at the top three for the last three years.
Drone Industry Barometer 2021
This one's a little different. Drone Industry Insights conducts surveys to get an idea of what the industry thinks are the important issues, factors and forces in the market. They call it the drone industry barometer. Here are what I find to be the main takeaways-
The industry is highly optimistic - People expected the upcoming year to be rated highly on overall outlook since 2017 even though the current year had fallen short of their expectations.

Passenger Drone Manufacturers are increasingly optimistic about growth in the industry. With several such companies going public this year, the industry is close to or at the peak of its respective hype cycle.

COVID-19 impact - More people felt a drop in demand than an increase in demand as an impact of the COVID-19 Pandemic.

Product Development is no longer the main focus. Most companies are instead focussing on marketing and sales of their products.

Rule-making authorities and Manufacturers are the most important market-driving actors. 
🚁 Other news this week
Hardware
Software
AirMap, one of the most popular airspace information apps and a LAANC authorization provider, is currently not listed as an approved provider by the FAA. Reasons for this is still unclear and AirMap shows its LAANC service status as offline.
Delivery
Matternet, the Swiss drone delivery company in partnership with SkyGo announces drone delivery trials in Abu Dhabi for medical supplies and delivery logistics.

Apian, a London-based drone delivery company tests medicine delivery to Isle of Wight. This project involves a 7 mile dedicated drone delivery corridor that aims to increase medical connectivity to the island.
Investments and Partnerships
Drone Racing League, the Formula 1-like championship for racing FPV drones announces partnership with Algorand, a Cryptocurrency/Blockchain startup. How do blockchains and drones mix? They say "Fans will be able to purchase blockchain-enabled tickets, collectibles and other transactions". Other than being a title sponsor, it will be interesting to see what tech they can bring in through the sponsorship.

Connecticut-based Aquiline Drones buys an AI startup called ElluminAI Labs to support the development of an in-house AI assistant called Spartacus. Where do AI assistants play a role in drone programs? Aquiline Drones would like to call it the Alexa of Drones.

French startup Ascendance Flight raises $11.7M to enter the e-VTOL market.
Policy statistics
There are currently more than 867,000 drones registered with the FAA of which about 344,000 are used for commercial use.
🏞 Drone footage of the week
This has some of the best cinematic FPV shots I've seen. Check it out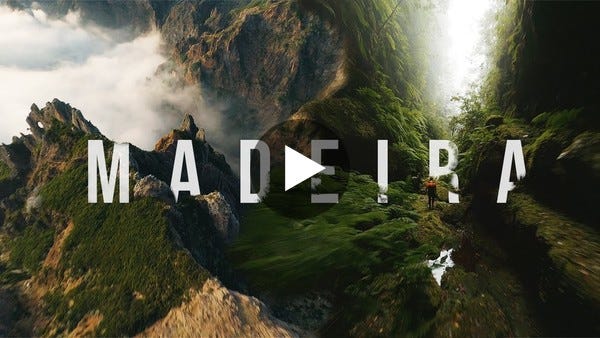 Madeira | Cinematic FPV
💡Not Drones
Every week I also share something unrelated to drones, but makes for an interesting read. This week's pick is an excerpt from Carl Sagan -
Carl Sagan on Moving Beyond Us vs. Them, Bridging Conviction with Compassion, and Meeting Ignorance with Kindness – Brain Pickings
"In the course of looking deeply within ourselves, we may challenge notions that give comfort before the terrors of the world."
🏁 Wrapping up
Congratulations on making it all the way down here. Hope you enjoyed this issue of Propwash. Subscribe if you haven't already.
What did you like about this issue? Is there something you want me to cover in the future? Or if you have anything to discuss, reply to this mail. I answer every mail I receive.
Keep flying,
Nihal
🔍 About | 📜 Ethics Policy and Disclosures | 🌱 Support Me
By Nihal Mohan
Every week, I share the most important ideas, news and insights from all over the drone space and tell you what matters.
Join a rapidly growing list of engineers, managers, CxOs and drone enthusiasts staying ahead of the curve, cutting through the noise, and following the rise of the drone age by signing up.
In order to unsubscribe, click here.
If you were forwarded this newsletter and you like it, you can subscribe here.
Powered by Revue