Discover more from Propwash
Thoughts and news from the maturing drone industry
Propwash #15 - The drone industry's politicization

The famous drone lawyer, Brendan Schulman left drones for robots recently. His departure came with a note of warning and disappointment about the state of the industry. It's big, and not enough people are talking about it.
Let's talk about it -
👨‍⚖️ Farewell and thanks for the heads-up
The drone industry has very few public personas. The CEO of the biggest drone company, Frank Wang is quite elusive, Chris Anderson - Silicon Valley's drone figurehead and CEO of 3D Robotics recently joined Google's flying car company. DJI's Romeo Durscher recently joined Auterion and is still active in the public safety sector.
And then there's Brendan Schulman, also known on Twitter as @dronelaws - The world's most famous drone lawyer. He served as DJI's VP of Policy and Legal Affairs since 2015 after joining the fastest growing company in the booming industry. He has been a public figure advocating for better drone policy since, and was actively involved with the FAA's policy development.
Last week, we heard news that he's leaving the drone industry to join Boston Dynamics, the robotics company that makes some really good robots which dance better than I ever can. He no longer goes by @dronelaws, and is becoming @robotpolicy as the VP of policy and government relations at Boston Dynamics.
Brendan served an illustrious career at DJI for over six years and was behind much of FAA's efforts to make drone-flying legal. So, it's a little sad to see him leave the industry. In his farewell post, he hinted at something in the industry that hasn't been talked about much since.
I would be remiss if I did not mention the disappointment I feel at how politicized the industry has become in the past few years. This has played a significant role in my decision to leave, and is something that remains a growing challenge for the industry and a genuine threat to innovation. I hope that those of you remaining in the industry find a way to solve these challenges with fact-driven, risk-based policies and standards. Organizations and individuals who have something to lose in this geopolitical game, in which the drone industry is being treated as a pawn, need to speak up and be heard.
Not many are talking about this. This politicization of the industry is hindering progress and is a net loss for everyone. Brendan did an interview with DroneDJ about his journey so far and his decision to leave. The whole interview is worth a read, and I highly recommend you to read it.
Brendan was a drone enthusiast long before he joined DJI, and used to fly model aircraft and RC planes before. He is leaving the industry at a high note with the recent regulations that were released surrounding flying over people, night flying, remote identification, etc.
His policy efforts were geared towards the everyday drone pilot, the common flyer, the civilian operator. Because of this, we have rules that make it possible for the average Joe to fly his drone with some basic precautions. With Brendan leaving, there is a large gap for someone to fight for the civilian drone space. If DJI doesn't find someone to fill the gap, the other manufacturers with very low market share are not incentivized to do so.
On the politicization of the industry, Brendan added -
The industry has become highly politicized, in part a reflection of geopolitics between the US and China that are obviously far larger than our fledgling industry, but also exacerbated by drone companies recently looking for any possible new competitive angle in an industry that already matured a few years ago. A company that asserts questionable marketing claims about where its product is "made" (which has legal significance), or to what extent its commercial drone can fully "fly itself without a pilot" (which is not legal), is probably just engaged in the type of puffery found in other industries and not too surprising. But a company stoking fears about drone technology, a technology already controversial among the public, in order to drive fear-based policy that will artificially increase sales of its own drone product, is ultimately self-destructive and damaging to the industry as a whole. 
That's a strong statement to make. Let's unpack it further
DJI has the largest market share in the consumer drone space and no other company comes close. In a race to the bottom, competitors are grasping straws and are trying to differentiate based on Country of origin.
This kind of differentiator is not sustainable. The technique used by proponents of this is FUD - Fear, Uncertainty and Doubt. This is a double-edged sword - If you want to drive fear that a particular company's drones not safe or not secure, the same creates doubt and uncertainty for other drones. It becomes exceedingly difficult to prevent that fear from applying to drones in general.
Brendan's right about this - the Drone industry has a PR problem. The immense potential and capabilities are currently held back by regulations in a lot of places. In Africa, Zipline is doing routine medicine deliveries using drones. There, "the regulator understands the benefits to society and is comfortable with the risks which are well-managed by the operator".
We've made progress over the last decade to have a legal framework for drone flying, but there's a lot more to do. This kind of fearmongering is not going to help grow the industry any further. The regulators are not experts on drone technology and are easily influenced by industry experts, media and the like. If the industry is divided and shooting itself in the foot by raising fear, the policy-makers are not going to make it easier for the industry.
As Brendan put it, this is "destructive and damaging to the industry as a whole". The short term gains in sales will not help in the long term growth of the industry. It's far better to be a technologist and a solutionist. The industry is still sort-of nascent. Yes, DJI has the best technology in the market so far, but giants eventually fall. The right way to bring forward change is through competition and having valuable differentiators. Using artificial differentiators (like origin country) doesn't help in making progress.
This sentiment was best captured by one of brendan's colleagues -
In fact, someone who left the company a few months ago said to me, "you and [former DJI senior director of government relations] Mark [Aitken] are the two most creative and effective advocates in this industry, and you are spending nearly all of your time dealing with China-US politics and false security allegations rather than helping advance the industry as you otherwise would. That has been a huge loss to the industry."
Think about that, the most talented lawyer for drones wasted a good portion of his career and work dealing with political disputes. This time could have been better spent on the multitude of policy issues and developments that are holding back the potential of drones. Opportunity costs add up.
Brendan's contributions to the industry will not be forgotten. To end things on a lighter note - here's a nice little song that someone on the internet made about the famous drone lawyer back in 2015 when he joined DJI.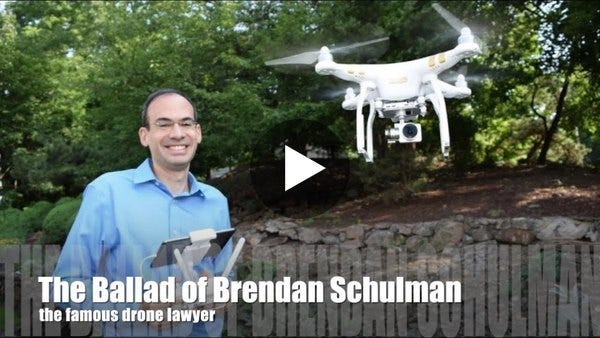 The Ballad of Brendan Schulman, The Famous Drone Lawyer
While we're at it, It's worth pointing out that Brendan believes that there was no drone involved in the Gatwick Incident. He's comfortable making that statement as he's no longer associated with drones anymore. To know more about the Gatwick incident, check out my summary here.
❄ Drone footage of the week
FPV drones chasing racing cars is something all motorsports should eventually adopt. The sense of speed and perspective is exhilarating! Check out this video of a Rallycross event filmed by an FPV drone to see how immersive the experience can be -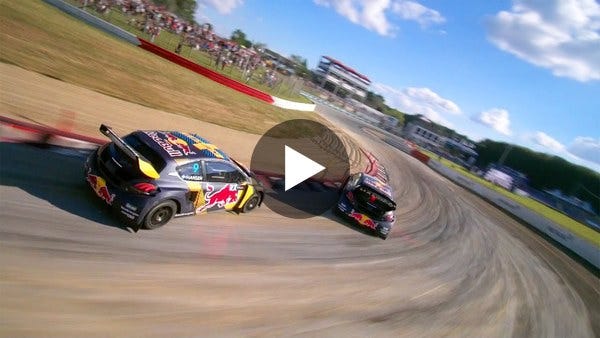 FPV Drone Vs Rallycross Racing
💡Not Drones
Every week I also share something unrelated to drones, but makes for an interesting read. Here's this week's pick - An essay on how the Wright brothers despite their achievement of the wright flyer lost out on a lot of potential progress due to patent disputes.
100 Years of Turbulence (Idle Words)
A century ago today, the Wright brothers took turns steering one of the first powered heavier-than-air aircraft on a series of controlled flights, the longest of which lasted fifty-seven seconds.
🏁 Wrapping up
Thank you for making it all the way down here. Hope you enjoyed this issue of Propwash. Subscribe if you haven't already.
This was a tough one to write and publish cause of the politics-adjacent content. I eventually decided to go ahead with it cause Brendan asked "… individuals who have something to lose … need to speak up and be heard". It's one of the reasons this issue was delayed. I hope to get back to the regular schedule soon.
What did you like about this issue? Is there something you want me to cover in the future? Or if you have anything to discuss, reply to this mail. I answer every mail I receive.
Keep flying,
Nihal
About | Ethics Policy and Disclosures | Support Propwash
By Nihal Mohan
Every week, I share the most important ideas, news and insights from all over the drone space and tell you what matters.
Join a rapidly growing list of engineers, managers, CxOs and drone enthusiasts staying ahead of the curve, cutting through the noise, and following the rise of the drone age by signing up.
In order to unsubscribe, click here.
If you were forwarded this newsletter and you like it, you can subscribe here.
Powered by Revue