Discover more from Propwash
Thoughts and news from the maturing drone industry
Propwash #13 - Drone for Public safety - the numbers

Welcome to a slightly delayed issue of Propwash. This week we cover -
A look at the public safety drone map from DroneResponders with some independent analysis

Delivery drone news from around the world.

Why drone aren't a good meal for alligators.
👨‍🚒 Public safety drones in numbers
Drones being used for public safety is ever-increasing as many first responders, police agencies, and firefighters continue to add drones to their arsenal.
DroneResponders, a non-profit that supports the use of drones for public safety and emergency response has an interactive map of public safety agencies using drones. This map has grown over the years and now has over 900 organizations listed.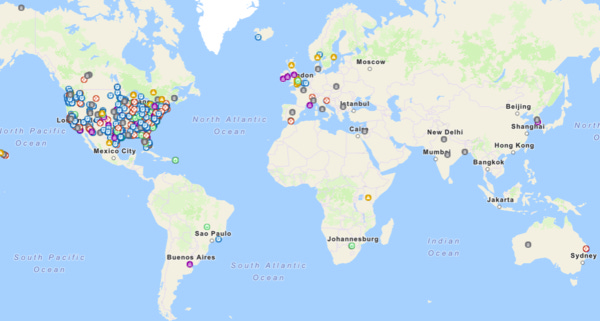 Public safety organizations coverage - DroneResponders
While the organization has most of its members in the USA, more international organizations and agencies are listing on the platform as it continues to grow.
The map also shows breakdown by agency discipline. Law enforcement leads drone adoption followed by Fire and Emergency services.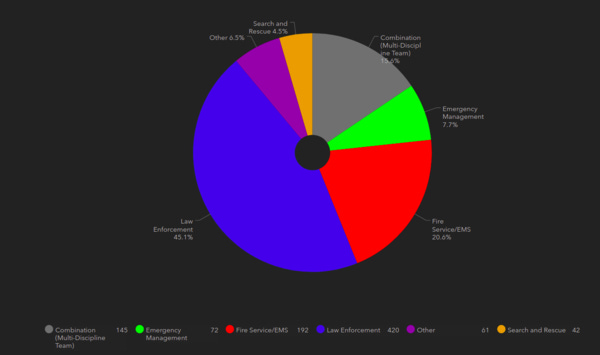 Public safety agencies breakdown - DroneResponders.
The basic statistics on the dashboard seemed insufficient to me, so I decided to dig around and do some analysis myself. The dashboard is built using ESRI's ArcGIS, so one can use the API to query the data. At the time of writing, there were 936 organizations listed on the site, and the following analysis is based on that data.
Here are some of the interesting results.
DJI still dominates the public safety sector with over 90% of respondents using a DJI drone. This result was unsurprising, and widely shared over the last two weeks.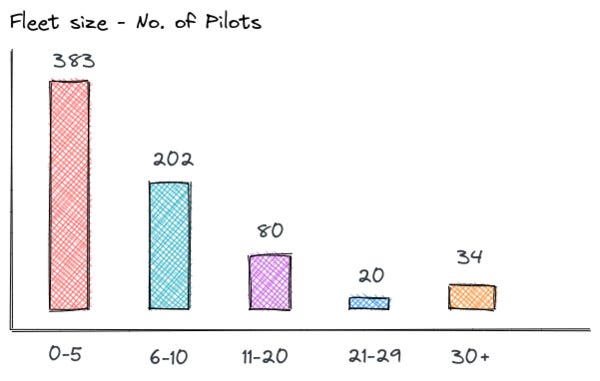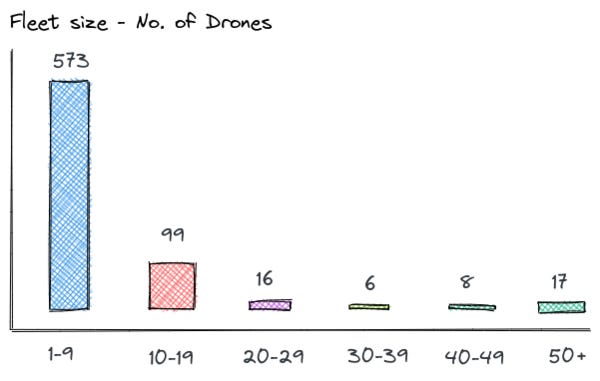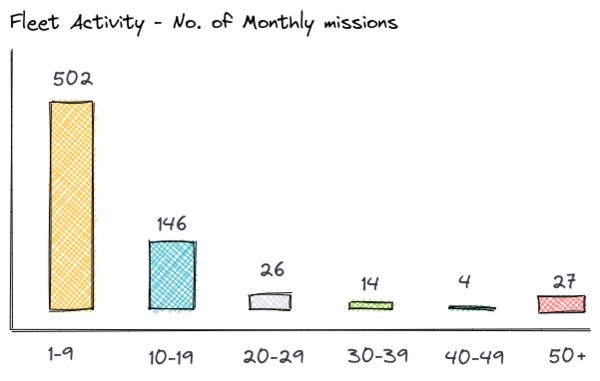 Other interesting statistics -
204 (21%) agencies did some kind of missions for COVID-19

134 (14%) agencies also have some kind of manned aviation program

Almost half the agencies (421) have a speaker payload on their drones.

2 in 3 organizations have drones with a thermal imaging payload in them (618)

Agencies which identified themselves as federal, local or state government agencies overwhelmingly used DJI drones (91%)
More than half the number of organizations and agencies are still small scale (<10 pilots and <10 drones). The trend is increasing though, and it will be awhile before these organizations face challenges of scale and require sophisticated fleet management solutions.
The Mavic 2 Enterprise's speaker add-on payload was a hit in the public safety segment. I was skeptical about its use when it was launched, but I'm now pleasantly surprised by its adoption.
What other insight do you want out of this data? Reply to the mail, or contact me and we can explore the data further.
📦 Delivery drones 🚀
A lot of news from delivery drones recently, and more coming in every week. Here are some of the highlights -
Zipline: Anne Wojcicki, the CEO of the DNA-testing company 23andMe joins the medical drone delivery giant, Zipline's board of directors. This news comes after Ziplines recent investment valuing the company at over $2.5B.
Walmart: The retail giant announces that it's GoLocal program that promotes local merchants will be utilizing drones. This will be done leveraging Walmart's partnership with DroneUp which provides it a network of over 10,000 certified pilots.
A2Z: A2Z drone delivery launches a new drone that's designed around its patented delivery mechanism. It has a dual payload elevated drop mechanism allowing for payload to be safely lowered from a height without coming close and raising noise levels at the ground. The payload free-falls from the drone, and then encounters a soft-brake followed by a touchdown with release. The drone can carry 2 payloads of 2Kg each for round-trip missions up to 18 kms.
Swoop Aero: The Australian delivery drone company, Swoop Aero partners with Iris Automation for detect and avoid technology. Iris Automation's technology can detect manned aircraft and some unmanned aircraft to help in collision avoidance. The company also helps in securing regulatory approvals for Cargo delivery and is likely the reason for the partnership.
🚁 Other news in the drone world
Hardware
Robotic Skies, a company that specializes in UAS maintenance services, partners with the Australian drone manufacturer Carbonix

The National Institute of Standards and Technology hosted a challenge to build long endurance aircraft for first responders. The winners were announced this week, with the Advanced Aircraft Company winning first place.
Counter-Drones
DroneShield, the counter-drone systems company adds a new product to their lineup that works on sonar and can detect underwater vehicles.

France tests C-UAS laser systems in its preparation for the upcoming 2024 Paris Olympics.
Acquisitions
The South African VTOL drone manufacturer ALTI is being acquired by an Israeli firm, Avnon Group for $7.5M.
Policy and UTM
The Spanish national traffic manager ENAIRE invests $1.3M to develop its version of U-space, the Unmanned traffic management network that is being adopted by various European nations.

DJI continues to face backlash from regulators over concerns on privacy and security. The latest has two House representatives pushing for an investigation into DJI's practices and recommending that it remain on the US Entity list.
❄ Drone video of the week
A video of an alligator devouring a DJI spark drone went viral this week. In the video, you can see the gator catch the drone while it was flying above it, and the lithium-polymer battery bursting into flames, and potentially releasing harmful chemicals. A reminder to drone pilots out there to fly safely and responsibly, not too close to people or animals that might endanger their safety.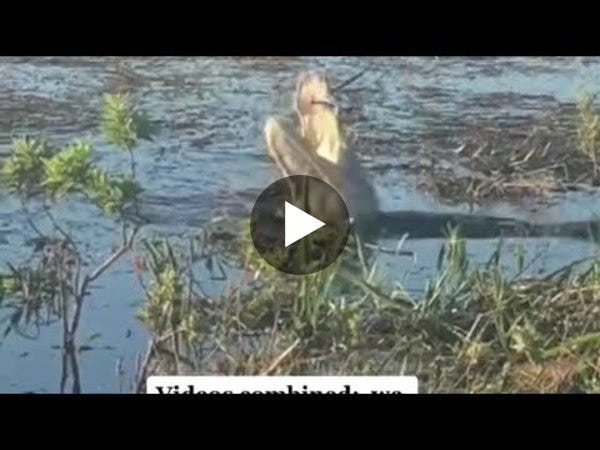 Alligator Eats a drone in Everglades, Florida.
💡Not Drones
Every week I also share something unrelated to drones, but makes for an interesting read. This week's pick a great essay on how we fixed the ozone layer.
How we fixed the ozone layer - Works in Progress
The story behind humanity's greatest environmental success is too rarely told and too often taken for granted. This is how humanity fixed the ozone layer and why it matters.
www.worksinprogress.co  •  Share
🏁 Wrapping up
Editor's note: A rather quiet week in the drone space this week led to this week's Propwash being shorter than usual. But fret not, all the important bits are here, and many more long form essays are on the way.
Congratulations on making it all the way down here. Hope you enjoyed this issue of Propwash. Subscribe if you haven't already.
What did you like about this issue? Is there something you want me to cover in the future? Or if you have anything to discuss, reply to this mail. I answer every mail I receive.
Keep flying,
Nihal
About | Ethics Policy and Disclosures | Support Propwash
By Nihal Mohan
Every week, I share the most important ideas, news and insights from all over the drone space and tell you what matters.
Join a rapidly growing list of engineers, managers, CxOs and drone enthusiasts staying ahead of the curve, cutting through the noise, and following the rise of the drone age by signing up.
In order to unsubscribe, click here.
If you were forwarded this newsletter and you like it, you can subscribe here.
Powered by Revue