Propwash #12 - When drones and aircraft collide

Welcome back to this week's Propwash. We cover:
The track record of drone incidents with manned aviation

The risks involved

What's being done about it?

Why talk about it now?
🌌 Shared airspace
Drones share airspace with manned aircraft. Compared to manned aviation, drones have a much lower barrier of entry and that brings in the risk of people flying recklessly. Because drones share the sky with aircraft carrying people; lives are at stake and flying safely is not just a recommendation, it's an absolute necessity.
Safety culture is deeply ingrained in aviation. Everyone with a commercial or private pilot license knows the risks involved and they strive to maintain the highest standard of safety to keep themselves and the passengers on board from harm.
To ensure that the two parallel worlds of unmanned and manned aviation don't interfere with each other, most aviation regulators around the world have ruled that flying over 400 ft (or 500ft in some countries) is illegal. To fly above that, you have to get a waiver or an exemption. That doesn't mean that these two worlds aren't immune to incidents like collisions or near-misses.
When two worlds collide
Before researching for this article, If you had asked me about the number of drone-aircraft collisions, I'd have estimated that it was around 50-100. I was wrong. The actual numbers might surprise you like they surprised me - there have been just 4 confirmed incidents, and a couple of alleged ones with insufficient evidence to blame a drone.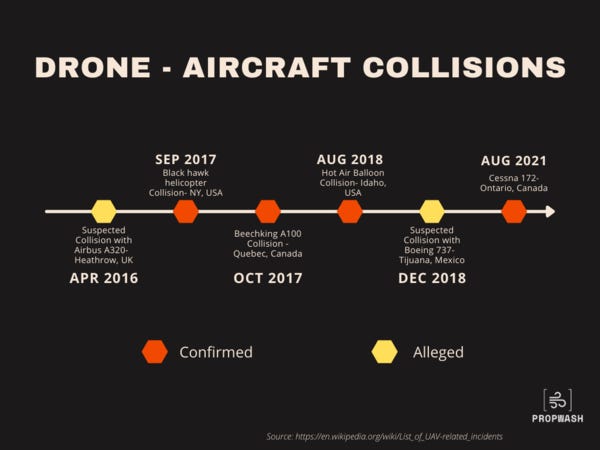 A timeline of reported UAV - Aircraft collision incidents
Fortunately, all the above incidents did not result in any loss or damage to life. The aircraft were of course, damaged and required repairs. The drones on the other hand were damaged beyond hope.
Manned aircraft also share airspace with some others who aren't co-operative - birds. Bird strikes pose a similar threat to passenger safety and there have been a lot of incidents in the past. Drones, unlike birds are heavier and carry a significant fire risk with the batteries that they carry. Birds are soft and squishy, drones are hard and bulky. So drones are still a threat right?
Well, sort of … Simply classifying something as threat v/s not-a-threat is binary thinking and not useful for engineering or policy. Instead, we assess the potential scenarios that might unfold, the risks associated with those scenarios, their consequences and bring in measures to mitigate that risk. Binary thinking can lead to results like the infamous "What happens when a drone strikes an Airplane" video below.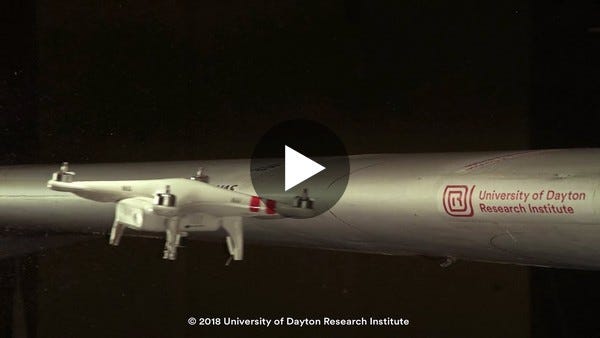 Risk in the Sky?
You may have seen the viral video above from 2018 by the University of Dayton, Ohio. The researchers tried to simulate collisions between manned aircraft and drones. They shared the footage of their experiment showing a scary slow-motion footage of a drone striking the wing of a small aircraft. Most popular media outlets picked up on this fear and the footage became viral.
In reality, the experiment was quite flawed. The scenario staged in the was impossible in real life. The researchers also claimed that a bird impact showed "more apparent damage" but they did not release the video. They used a DJI Phantom 3 drone in the experiment, which DJI wasn't happy about. The company released a statement saying that they demand the withdrawal of the "misleading" video. The full statement does a pretty good job at breaking down why the research was misleading and is worth a read.
That's not implying that drone-aircraft collisions are safe. In 2017, the FAA started a program called ASSURE (Alliance for System Safety of UAS through Research) which conducted research on the risks associated with drone-aircraft collisions in collaboration with Mississippi State university and several other universities. (Coincidentally, the University of Dayton from the viral video is not a member.)
The ASSURE report is the best source of information on the risks associated with drone-aircraft collisions. To broadly summarize -
Drones carry a higher risk when striking aircraft due to their larger mass and certain components like the motor and battery can be more damaging.

The windshields generally sustained the least damage and the horizontal stabilizers suffered the most serious damage.

Concentrating those masses on the drone can also cause greater damage

The structural damage severity levels ranged from no damage to failure of the primary structure and penetration of the drone into the airframe. The risk to flight from this damage was not explored.
Mitigating Risk
What then? What is the way forward with this knowledge of risk? Aviation regulators around the world are taking various measures to ensure drone flying is safe, legal and possible. The FAA and every other country prohibits operation of drones within 5 km(sometimes more) of an airport. The rule acts as a deterrent to ensure the safety of the people on-board the manned aircraft.
Every drone pilot license around the world includes some level of aviation safety and guidelines in their instructions. The FAA even mandated that recreational drone pilots take an online test and education that covers basic safety and operational guidelines.
To operate in controlled airspace that's near airports, pilots have to get prior authorization before flight, notify the Air Traffic Controller (ATC) nearby and establish a line of communication. In the USA, the FAA has introduced a system called LAANC that allows for airspace authorizations online and notifies the ATC about the drone activity in the Area.
With such measures in place and more in the works, sometimes you wonder if it's enough.
Why? The infographic you saw at the top of the post would have just 5 incidents if not for the latest confirmed drone-aircraft collision that happened in Canada earlier this month, which prompted me to write about it.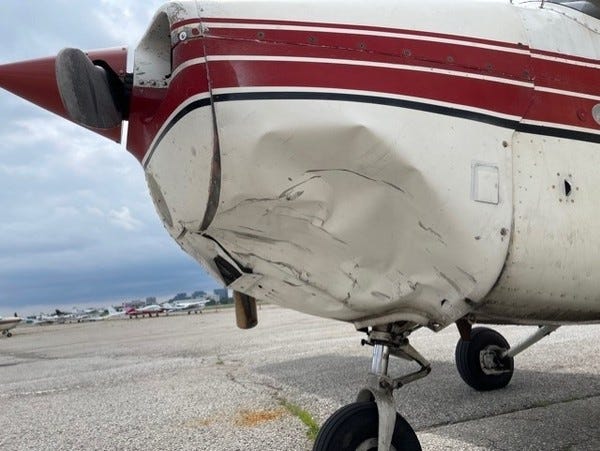 The aftermath of the latest confirmed drone-aircraft collision with a Cessna 172
A Cessna 172 that was approaching for landing and impacted a drone at about 500 ft altitude a mile away from the airport. The pilot was able to land safely, and assumed that they had just hit a bird. A few hours later, a police detective confirmed a York Regional Police drone had struck their aircraft.
That's embarrassing.
The police department was flying in restricted airspace without following the proper procedures. The event did not get enough media attention, and several social media users were outraged that the incident was not given enough attention because it was by the Police. If this was by a civilian drone pilot, what would the media reaction be?
Fortunately, while the damage to the aircraft was substantial, the pilot and the passenger landed safely. Just like the other drone-aircraft collisions from before, there wasn't any loss of life or injury. We can breathe a sigh of relief, and get on with things as they are right?
No.
Those four confirmed incidents are four too many. The main thing that's holding back the economic potential of drones are regulations. The regulators are concerned about safety and tend to take things slow. Ireland and Australia have actual last-mile drone deliveries happening right now because of permissive drone laws. For the economic potential of drones to be realized across the globe, the regulations need to support it and it won't happen as long as incidents like these continue.
The issue is people. Human error is the main reason for over 80% of aviation incidents. It's the same story with drones. Human error is the majority cause of incidents. However, unlike manned aircraft, every incident caused by a drone bears high scrutiny. Aircraft pilots have skin in the game, and drone pilots don't. Every time a drone pilot does something irresponsible, it can be seen as a threat to the safety of others.
In several forums on the internet, you can see veteran drone pilots and hobbyists instruct newcomers to fly responsibly if they're seen doing unsafe things. This sense of safety and responsibility is an absolute minimum requirement in every drone pilot. I don't know what's the best way to introduce this shift in mindset, maybe it's more intensive training, or maybe it's education, or perhaps real-time tracking. Whatever the solution may be, I hope that we figure it out soon. Because, the next time a collision occurs, it might not fly under the radar like this one.
🚁 Other news and trends in the drone world
Hardware
Delivery
Buoyant - The drone airship startup that was funded by Y Combinator reveals more details about the company in a launch thread on Hacker News. They are targeting middle mile logistics with payloads up to 250 kg and a range of 200-300 miles.

Google's Wing completes a milestone of 100,000 deliveries - mostly in the city of Logan, Australia.
Policy and Legal
The industry is still divided on Remote ID. A survey shows that about half the population find it difficult to comply with the Remote ID regulations.

DJI and Autel's long-standing patent dispute was settled just days before a jury trial was scheduled to begin. The dispute was DJI's allegation that the Autel X-star drones copied DJI's phantom series.

India officially releases its Drone Rules 2021 after the draft was released for public comments a month ago. The rules are a great leap forward from the one before and the country has a long way to go to ensure that other potential bottlenecks surrounding mandatory type certification and pilot licensing are ironed out. (see disclosure) One consequence of the rules is that the regulator has not differentiated between BVLOS (Beyond Visual Line Of Sight) and VLOS flights; effectively legalizing both modes of operation.
Investments and IPOs
The Israeli industrial drone company Airobotics planned to go public via an IPO recently at a valuation of $50 M. Unfortunately, the IPO failed spectacularly and the company was unable to raise even half of the $12 M target.
❄ Drone footage of the week
Technically, this isn't drone footage, but this tour of the Chinese eVTOL manufacturer EHang's production facility is hard to pass.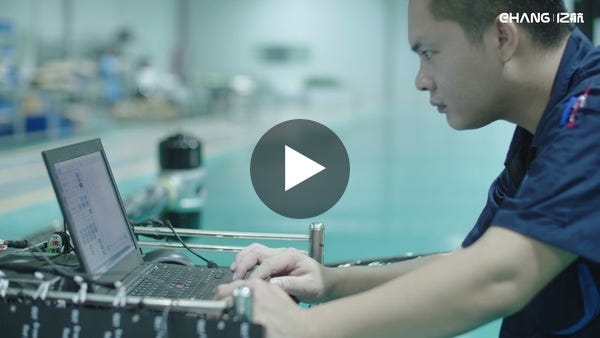 EHang Yunfu Production Facility in Operation
💡Not Drones
Every week, I share something unrelated to drones, but makes for an interesting read. Did you go for a walk this week? Maybe you should…
On the Link Between Great Thinking and Obsessive Walking ‹ Literary Hub
Moreover, you must walk like a camel, which is said to be the only beast which ruminates when walking. –Henry David Thoreau, "Walking," 1861 *
🏁 Wrapping up
This issue took longer than I thought it would. I hope you found it valuable. Share it with your friends and subscribe if you haven't already.
What do you want me to write about? If you have any ideas and wanna talk, reply to this email. I answer every email I receive.
Until next week!
Keep flying (safely),
Nihal
About | Ethics Policy and Disclosures | Support Propwash
By Nihal Mohan
Every week, I share the most important ideas, news and insights from all over the drone space and tell you what matters.
Join a rapidly growing list of engineers, managers, CxOs and drone enthusiasts staying ahead of the curve, cutting through the noise, and following the rise of the drone age by signing up.
In order to unsubscribe, click here.
If you were forwarded this newsletter and you like it, you can subscribe here.
Powered by Revue