Discover more from Propwash
Thoughts and news from the maturing drone industry
Propwash #11 - Where is the drone Industry headed?

How do you make sense of market research and industry forecasts? Where is the drone industry right now? In this week's Propwash we try to understand what are the trends to watch out for and how to keep our optimism grounded.
📊 Dissecting Industry forecasts
In the drone space, Germany's Drone Industry Insights is a well known market research company that publishes their analysis, results and forecasts in blog posts while also selling detailed market reports. Just recently, they released their market forecasts for 2021-2026. The full report costs $5800 but there's a blog that covers the essentials and is worth a read.
In every industry, there are similar businesses offering insights and analysis and the drone industry is no stranger to them. For this week's issue of Propwash, I want to run down some highlights from this report and share my framework for making sense of them.
The Drone Industry Insights report shows that the global drone market is valued at $26.3 Billion. The impact of the pandemic is seen in the growth estimates where despite the record high investments, the global disruption slowed down the growth forecast of the industry. This resulted in a lower growth rate of 9.4% CAGR (Compound Annual Growth Rate) compared to last year's 13.4%.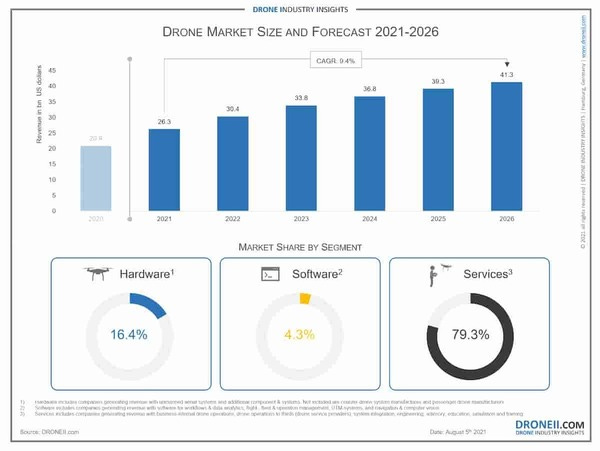 Drone market size and forecast. Credit - Drone Industry insights
The report also forecasts that the drone industry will reach a valuation of $41.3 Billion by 2026. But you should take these predictions with a spoonful of salt because
Case in point - Drone Industry Insights have been releasing the annual market report for the last three years now, and the forecasts are not very consistent-
That's not to undermine them. Drone Industry Insights is one of the best companies at their job, they are more grounded than others and have better industry specific experience. There are a lot of other companies that publish SEO and keyword optimized reports with wild predictions and numbers that are seemingly from a random number generator.
The point is not to be pedantic about the exact numbers in the forecasts and point out inconsistencies. There are always quite a few inconsistent and disproportionate forecasts. Take for example Goldman Sachs' widely cited forecast from 2016 that the drone industry will be valued at $100 Billion in 2020. We aren't even half way there yet!
The Goldman Sachs report was published near the peak of the hype cycle and here's a quick reminder of where we are right now -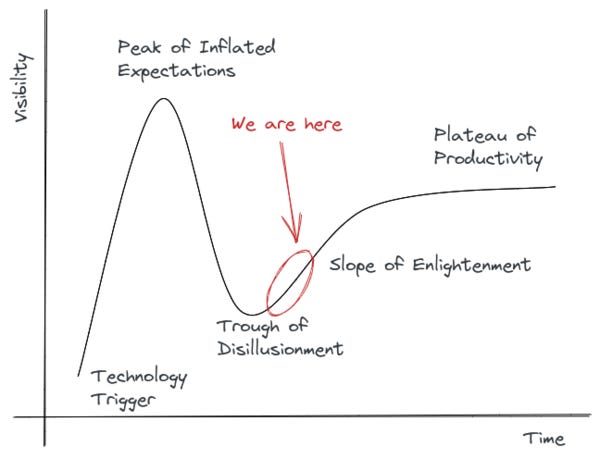 We are here - climbing out of the trough
Climbing out of the trough of disillusionment and riding up the slope of enlightenment is not easy. The surprising amount of detail that's ever present in reality kicks in, and everyone slowly realizes that just because something could be done by drones, doesn't mean it should. People also realize that just because drones can do certain things better in some specific, localized way doesn't mean that they are the best solution that ends up being adopted. Climbing up the slope of enlightenment requires just that - enlightenment on what problems are worth solving at scale and offering sufficient value that the trade-off becomes a no-brainer.
That doesn't mean there isn't any value in reading market reports either. The best use of them is to understand the zeitgeist. While they fail at predicting the future, these market reports are quite good at capturing a snapshot of the current market conditions. What's the market share of software v/s Hardware? What is trending? Etc.
So how do you make the most of these market reports and forecasts? Here's how I do it -
Focus on the current state. Market research involves doing surveys to understand the current state of the market. This is a valuable snapshot of reality.

Read multiple sources. The full reports are usually not worth it and you can paint a better picture by combining results from several sources and eliminating noise.

Focus on the trends and ask yourself if the trend is in a localized peak of its own hype cycle or if it makes sense in the larger context.
With that in mind, there's still a lot to gather from the 2021 report. The service market is still the leader, with almost 80% of the market share. What makes up services? From the sample report, we can gather that it includes "drone service providers (DSPs), systems integrators; pilot training providers; retailers & marketplaces ; coalition and organizations; drone shows; drone news sources; drone insurance providers; drone test sites; universities & educational facilities; and, drone business accelerators"
The lion's share of this would be DSPs offering Drones as a Service (DaaS) who continue to be the primary driver of drone technology adoption in several industries (Inspections, surveying, etc.). Delivery drones are the next largest segment and continue to grow despite the pandemic's setbacks and have even been used for vaccine deliveries.
Other than the market share, reports often highlight predictions based on recent news and market trends. These are hit-and-miss with some predictions going bust such as the one from 2019 that India will be the fastest growing market due to legalization of drones. In reality, the legalization framework was cumbersome and complex leading to a very slow moving industry. The government followed up with even more cumbersome rules that was repealed soon after when the industry complained about the burden of regulations.
The 2021 report predicts India as a candidate for rapid growth. However, this is highly dependent on exact terms of the final drone rules that was supposed to be released earlier this week. With the local manufacturing industry lobbying for restrictive regulations to keep foreign drones away, the final draft will make or break the country's economic potential of utilizing drone technology. (My work is directly impacted by them, see disclosure)
What are some other trends to watch out for? The report says that "the fastest-growing drone market in 2021 and beyond will be Cargo, Courier, Intralogistics". This is an interesting one, last week we saw DHL abandoning its last mile delivery and instead focus on middle-mile cargo using drones. We'll have to see if this use case turns out to be economical.
In 2020-2021, spraying drone have increased in adoption and DJI just released two new drones last week into the worldwide market. This is after over 4 years of iteration and real-world usage of their older Agras series drones. A new product release in this direction indicates scope for growth and it is in line with the increase in Agricultural spraying drones in developing markets such as India that I've seen at work.
As we move up the slope of enlightenment, it is worthwhile to zoom out and look at where we stand. The industry is growing steadily and to me, the drone age is when we've reached the plateau of productivity and the usage of the drones in everyday life is commonplace and unexciting like a smartphone. Until then, we keep flying upwards.
🚁 Other Trends and news
Software
Hardware
Policy and Public safety
Investments and Acquisitions
💧 Drone footage of the week
The world's highest waterfall meets FPV drones by Ellis van Jason -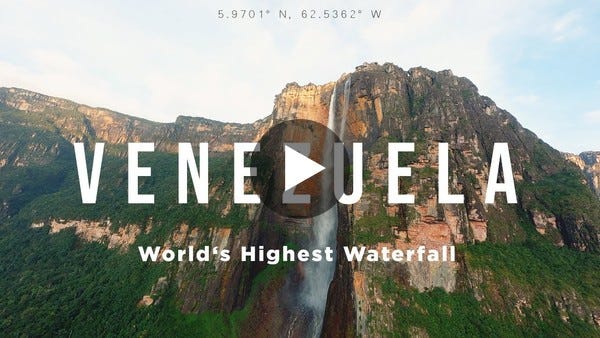 Venezuela | Cinematic FPV over Angel Falls
💡Not Drones
Every week, I share something unrelated to drones, but makes for an interesting read. This week, you should read this compilation by Patrick Collison on human ingenuity - A list of projects that were built very fast.
Some examples of people quickly accomplishing ambitious things together
🏁 Wrapping up
It's been a busy couple of weeks, and I have a couple of cover stores in the works, subscribe to ensure you don't miss out.
What do you want me to write about? If you have any ideas and wanna talk, reply to this email. I answer every email I receive.
See you next week!
Keep flying,
Nihal
About | Ethics Policy and Disclosures | Support Propwash
By Nihal Mohan
Every week, I share the most important ideas, news and insights from all over the drone space and tell you what matters.
Join a rapidly growing list of engineers, managers, CxOs and drone enthusiasts staying ahead of the curve, cutting through the noise, and following the rise of the drone age by signing up.
In order to unsubscribe, click here.
If you were forwarded this newsletter and you like it, you can subscribe here.
Powered by Revue